Explore exciting new events in Coventry
Our friends over at Visit Coventry have pulled together a magnificent list of Coventry events to definitely have on your radar! From major sporting events to live music, theatre productions and art exhibitions, 2021 will give you the chance to rediscover all that Coventry has to offer.  
Discover 21 new and exciting things coming to Coventry below!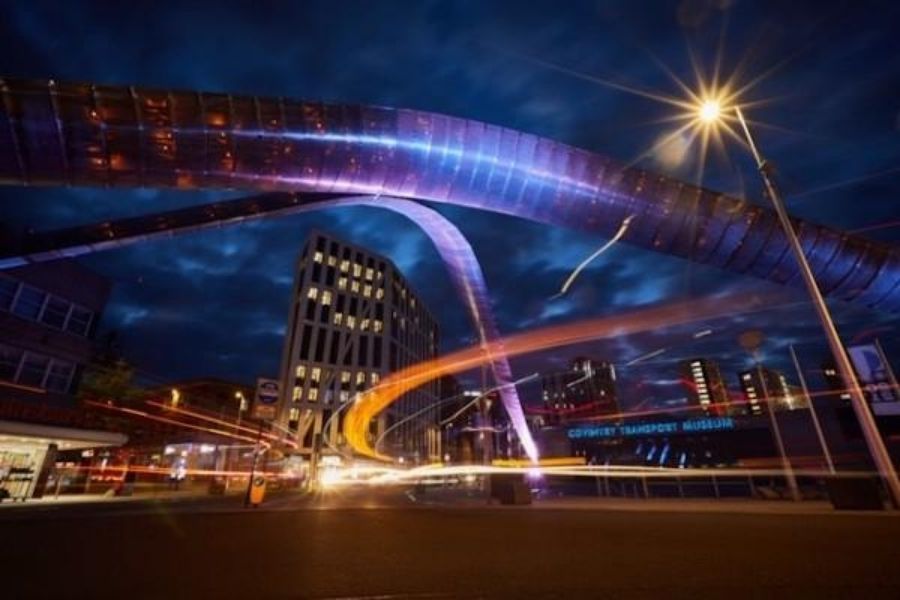 1 - The transformation of Christchurch Spire into a Dhillon's Brewery continental café bar
One of Coventry's three spires is being turned into a continental café bar in time for UK City of Culture. The all-day café aims to be an attractive location for families in the daytime, with coffee and muffins on hand, and transform into a craft bar in the evening. 
2 - Opening of The Telegraph Hotel
It's what we have all been waiting for, The Telegraph Hotel has opened its doors. The iconic Telegraph building at 157 Corporation Street was home to the city's newspaper for more than 50 years. Their restaurant, bar and lounge will be the perfect place to relax and experience some authentic 1950s glamour. 
Adventure cinema is bringing the magic of film to the beautiful War Memorial Park this Spring. Bring a blanket or camping chair and watch Harry Potter, Dirty Dancing, The Greatest Showman and The Lion King on a giant cinema screen in the open-air! 
With a bar and hot food traders, and a great range of films, this will be a COVID-safe fun event for all the family. 
4 - The reopening of theatres 
The Belgrade Theatre and The Albany Theater have set to re-open their doors and we couldn't be more excited. Ranging from world-renowned touring theatre and dance, local talent, acclaimed tribute acts, children's favourites, and well-known names from stage and screen, it's time to begin booking your summer of fun in the city of culture 2021!
5 - The Opening of Fargo Village's new Factory
The latest addition to Coventry's food scene, bringing together some of the most exciting independent kitchens and traders from the local area. Factory is a social all-day dining experience, situated in multiple repurposed units at FarGo Village. 
6 - The opening of the city's brand-new visitor information pod
A striking new visitor information pod is set to be installed at Coventry Railway Station. The pod's design, developed with support from Creative Giants, will acknowledge Coventry's visionary approach to post-war architecture and its use of diverse materials. The pod will have an almost iridescent finish that will appear to change colour as it reflects light through the day and as viewers walk around and past it.   
7 - The '2-Tone Lives and Legacies' exhibition at The Herbert Art Gallery & Museum
'2-Tone Lives and Legacies' is going to be the UK's first exhibition dedicated to the 2-Tone music scene. The exhibition will explore the formation of the record label and examine its philosophy, political and social message, design and impact on the music charts of the day.   
8 - Coventry Comedy Festival 2021
They say laughter is the best medicine, and if you like to laugh, you're going to love this 10-day festival happening in the heart of Coventry. For 10 days, the city will play host to comedians and acts across multiple city-centre venues. 
This extraordinary event will Celebrate Coventry's year as the UK City of Culture on Saturday 5th June 2021. Creating a powerful and diverse vision of our future, forged with our people and from our history. The city will be transformed, rising from adversity in a spectacular performance, a celebration and a collective movement. 
Set in Coventry's newly formed Charterhouse Heritage Park, this series of awe-inspiring immersive audio-visual artworks imagine how the natural world connects to the flow of oxygen within us.  
The UK Asian Film Festival (UKAFF) is the world's longest-running and UK's most loved South Asian film festival. Produced by Tongues on Fire Limited, UKAFF brings people together to enjoy electrifying untold stories, bold new cinema, and learn from award-winning filmmakers through an eclectic mix of masterclasses and in conversations. Just another wonderful cultural experience as part of our UK City of Culture programme. 
In a world where engineering, imagination and dynamic movement combine, Highly Sprung introduce a unique take on aerial dance with their new gyroscopic flying machine. This is aerial with no strings attached.
13 - Live music at the Ricoh Arena 
We all know how good it feels to see our favourite artist in concert. The exhilarating sensation of not just hearing, but also seeing and feeling the music is like nothing else. 2021/2022 will see three world-class bands (The Killers, The Specials and Rammstein) take centre stage at the Ricoh Arena, giving fans an unforgettable night. 
Once again, Coventry will be welcoming the three days of non-stop cultural celebration and motoring madness. This MotoFest Month brings together thousands, young and old, to celebrate the industry that moves us. MotoFest is the one summer party invite that's just too good to turn down. 
15 - Terry Hall Presents Home Session
Terry Hall, of iconic Coventry band The Specials, will curate a brand-new three-day music event that will take place in the heart of the City. This weekend will blend international legends with contemporary pioneers. 
16 - KidTopia - A World of Fun for Kidz
This fun-packed kids' event is perfect for 2-12-year-olds! It will be packed full of entertainment, your favourite TV characters, live shows, inflatable fun zone, VIP guests, real-life farm animals, gaming area, Dance/Gym Academy, sports activities and so much more – we might just explode! 
Hosting a range of artisan food producers in the region, with dedicated zones for gluten-free and vegan produce, street food, and some of the finest producers of cheese to chutney, scotch eggs to brownies, also offering bars, cocktails, demonstrations and live music!
18 - Transport Innovation Showcase
Coventry City Council and its strategic partners are inviting regional transport innovators to take part in a yearlong programme of activities designed to showcase the latest developments in transport and technology the city and region have to offer.  
19 - Turner Prize at the Herbert Art Gallery & Museum
One of the best-known prizes for visual arts in the world, Turner Prize 2021 is coming to the Herbert Art Gallery & Museum in Coventry as part of UK City of Culture 2021.  
Every other year, the Prize leaves Tate Britain and is presented at a venue outside London. In Spring, the judges will announce the four shortlisted artists who will present new work at the Herbert in 2021. 
In a breakthrough moment for Rugby League, the men's, women's and wheelchair games will come together for the first time on the sport's biggest stage. With 61 fixtures over a six-week period, the tournament will showcase a festival of world-class sporting action. And Coventry will be hosting one of the most anticipated games of the series, Australia vs Scotland on Friday 29th October 2021. This is truly an unmissable event, and with everything happening in Coventry this year, why not make a weekend of it with us? 
Join 4,000 runners and take to the streets of Coventry. The Half Marathon route takes in historic city landmarks, leafy country lanes, and stunning views of the city, leading you up to our beautiful Cathedral and the finish line.
Don' forget to join in our Facebook, Twitter and Instagram.
*Ourselves and Visit Coventry  advise visitors to check with each venue or event organiser ahead of their arrival for updates on potential restrictions or changes to guidelines.