The 22nd April 2021 is Earth day
Together, we can prevent the issues associated with climate change and environmental destruction. Here are seven facts showing how bus travel can play an important role in the solution to pollution.
Bus-y Earth facts
1 - If everyone switched just one car journey a month to a bus or coach instead, that would mean up to a billion fewer car journeys, saving two million tonnes of CO2!
2 - Every extra passenger transferring from a single occupancy car to public transport generates a CO2 saving of around 150-180gms/ km. 
3 - Even a five-mile journey on a normal diesel bus means you emit half the carbon as you would if you went by car.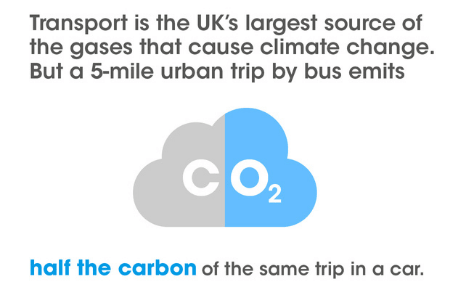 4 - Our beautiful British-built electric buses are powered by renewable energy - so they're totally zero-emission.
5 - Our entire vehicle fleet has already been converted to Euro VI engines. So even if you see an older registration bus it will still be one of the cleanest, greenest diesel buses available on the market.
6 - If Covid-19 results in one million extra cars on our roads, we will have over one million extra tonnes of carbon dioxide going into the atmosphere annually.    
7  - A full double decker bus can take 75 cars off the road.*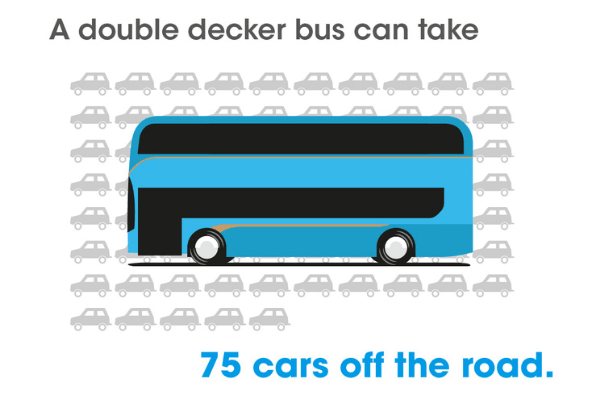 *when social distancing is not taking place on board
So there you go, catching the bus is the simplest and cheapest thing you can do to fight climate change. We have already committed that our UK bus fleet will be fully zero emission from 2030. Learn more about what we are doing to support sustainable travel commitment or read about Birmingham's Clean Air Zone, coming into effect from June 2021.