One of the biggest moments in Coventry's recent history
Fourteen modern-day Lady Godivas are gearing up to be part of one of the biggest moments in Coventry's recent history. The 14 chosen Godivas are learning to ride horses so they can take part in an event to launch Coventry's UK City of Culture year.
The Coventry Moves event has been created for people in Coventry, Warwick and across the UK to experience from home - online, on their radio or on their social media feeds. The event will run at intervals throughout the day on Saturday 5th June at 8:30am. The exact roles of the Lady Godiva's will be revealed on the day of the event.
Chosen to represent women of the city, the Godivas include musician Christine 'Sugary' Staple and Pru Porretta, who has played Godiva at events since 1982.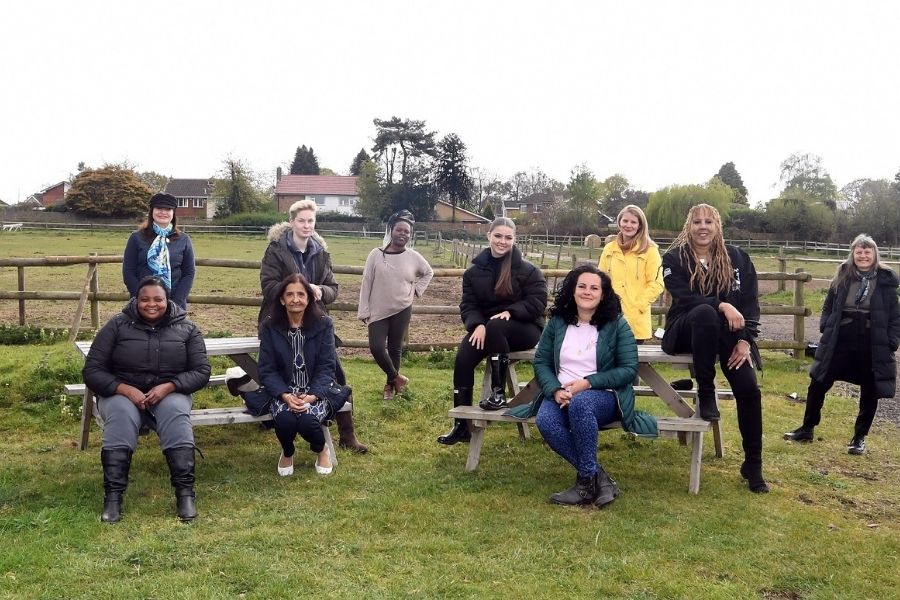 The 14 women each have unique stories of their own, which were drawn out during the nomination and selection process, making them perfect representations of the famous figure. Discover more about Coventry's Godivas below.
Modern-day Godiva Biographies:
Felicity Aslop
Felicity is a young woman who has autism and who cares for her mother. She is an active member of her community helping on a daily basis, be it helping senior citizens to cross the road or buying food and drink for the homeless. She grew her hair to waist and last year she had it cut off and sent to a charity that makes wigs for children with cancer. She is passionate about helping animals and has rescued and rehome 15 hamsters during her childhood.

Alethea Balbuena
Alethea's passion is helping others, especially groups that are forgotten, disadvantaged or from underserved communities. She is the deputy CEO and Director of Operations of Coventry and Warwickshire Mind. She has worked for the organisation since 1999.
She volunteers with the night shelter, working with people who live on the streets, particularly during the winter months.  She is also involved, as a dancer, in an annual charity fundraiser, Coventry Does Strictly. She has recently worked to fund services for young Black men and their mental and emotional health, and worked to fund a grass root services engaging disadvantaged young people, focussing on their mental health and emotional wellbeing through sport and basketball.

Kirsty Brewerton
Kirsty Brewerton is a Clinical Sister with the NHS who has been re-deployed throughout the pandemic. She is one of the founding members of Sitting Rooms of Culture, a creative community group that began in response to the pandemic. Their online space has become a creative hub for the city, and a place to share grassroots talent.

Surinder Dhillion
Surinder was one of the founders of Ekta-Unity, which provides services to improve the holistic wellbeing of the local Asian community. Ekta was formed in 2012 and as Chair, Surinder developed it from conception to provide services 4 days a week. During her time as leader, Ekta received the Queens Award for the Voluntary Services it provides, and another national award for tackling health inequalities and promoting health promotion. She stepped down as chair in April 2019 and resigned as a trustee last year due to health reasons. She recently joined the team of trustees for Broad Street Hall and supports its community initiatives.

Christine Eade
Christine Eade manages The Pod, Coventry City Council's award winning mental health social brokerage and cultural hub. The Pod builds individual, organisational and societal capacity for creativity, innovation, compassion and activism.  Their approach asserts the importance of cultivating authentic connection with the city, its creatives, entrepreneurs, changemakers and quiet activists.

Isabelle Edgar-McCabe
Isabelle founded the baby bank, Baby Godiva, in 2019 as an emergency support centre for struggling parents in Coventry. Working mainly with health and social care professionals in Coventry and Warwickshire to identify babies in need, Baby Godiva seeks to help socially and/or economically disadvantaged families and mothers unable to provide basic equipment, consumables, food and clothing for their babies from birth to around twelve months by supplying them with appropriate donated or purchased items free of charge.

Reena Jaisiah
Outside of her day job working with young people, Reena has been at the forefront of highlighting the issues of caste based discrimination; writing a play to showcase real life British Asian's experiences of caste prejudice. She has also worked with the Belgrade Theatre leading on an Asian youth theatre project tackling stereotypes of the Asian communities. She has dealt with many sensitive issues including sexual exploitation of women and drug addiction. Her work has been recognised by several professional bodies and she was selected as one of the 100 most inspiring women in the Midlands. Reena has also worked with children with autism and special needs, young offenders, the new communities in Coventry and the homeless. In 2016 she was a recipient of Coventry City Council's Good Citizen Award and has been recognised as alumni of the year for Birmingham City University. She has become a voice for adults with learning difficulties such as dyslexia.

Last Mafuba
Last is the founder & CEO of Inini Initiative, a charity that offers a culturally sensitive mental health service to people of colour. She has 20+ years of experience of working with marginalised groups. She has worked with asylum seekers, refugees and migrants, people with learning disabilities, those experiencing mental health problems, and women experiencing domestic abuse. She holds a BSc in Psychology and an LLM in International Development Law and Human Rights both from Warwick University. She is an Acumen Fellow, and is now researching for a PhD, focusing on mental health and mental health services in Black communities.

Caitlyn McCarthy
Caitlin is a 16 year old singer songwriter from Coventry, who is already creating a buzz on the local music scene. Caitlin is due to release her debut EP in March 2020. She was the voice behind Coventry City Council's "I Will Survive" Covid-19 advertisement.

Jess Mclish
Whilst expecting her second child in 2019, Jess launched Coventry Rocks, a website for families to find local baby and toddler groups, events, attractions and activities. During the pandemic, she adapted the site into a support hub for families in the area. She launched a Family Favourites series, where local parents shared ideas for keeping kids entertained. Coming out of lockdown, Jess launched a collection of local outdoor spaces which was hugely beneficial to local families looking for new and different places to explore.

Loraine Mponela
Loraine is a community organiser and Migrants Rights campaigner. She is the chair for Coventry Asylum and Refugee Action Group (CARAG). CARAG is for and run by people seeking asylum, refugees and migrants living in the West Midlands. For her work with CARAG, Loraine has been recognised as 'Everyday Hero' by Coventry City of Culture 2021. Loraine sits on the Board for Women for Refugee Women and on the Management Committee for Asylum Support Appeals Project (ASAP) among others.
She also sits on the Status Now Network for the #StatusNow4All Campaign which is calling on the governments of UK and Ireland to give/regularise status for ALL: people still in the legal process, people who are undocumented and everyone failed by the UK asylum and Immigration system as a public health measure. Loraine has a lovely son and naturally loves fish.

Laura Nyahuye
Laura is a Zimbabwean born creative visionary who makes wearable body adornments. Her work challenges perceptions and addresses issues to do with women and migrant communities. She is also the founder of Maokwo, a social enterprise exploring ways in which creativity can bring communities together.

Pru Porretta MBE
Prue Porretta MBE has devoted her time and considerable energy to charitable causes in Coventry for nearly 40 years. Pru reimagined the role of Godiva from a spectated figurehead on a horse to a strong female leader seeking social justice and working with other female heroines from different cultures to empower their communities and to celebrate diversity across those communities collaboratively.  These are the Godiva Sisters. Pru leads the Sisters as catalysts for social cohesion in many festivals, events, workshops and talks such as the annual Godiva Day in September, a tradition Pru revived. She is the founder and CEO of the Godiva Trust, which engages positively with schools, communities and grassroots organisations, celebrating the rich cultural heritage and diversity of the city. Pru connects people and ideas with positive thought and creativity in many ways. She is an ambassador to some of Coventry's twin cities providing school workshops in Russia, Germany and Serbia to name a few. She is a knowledgable Heart of England tourist guide and offers her support and commitment to tourism in Coventry. She provides educational workshops, story telling of the heritage of Godiva and is involved in several multicultural women's programmes.  The Trust has grown with her leadership to offer reconciliation programmes and events to promote the importance of peace. She is always seeking opportunities to enact positive social development through artistic and cultural means, often creating new avenues of collaboration and empowered change.

Christine Sugary Staple
Christine 'Sugary Staple' has been writing, producing and performing in film, video and music since her teens and is the wife and manager of the Original Rude boy Neville Staple (ex The Specials & Fun Boy 3). She works tirelessly supporting Coventry City and works for various charitable trusts and schools helping children into music and drama.

Don't forget to join in on our Facebook, Twitter and Instagram.