Safer Travel relaunch anti-hate crime campaign to encourage passenger reporting
Safer Travel has relaunched their anti-hate crime campaign to encourage customers to report if they are victims of hate crime on their journey.
Following the success of the original campaign which was launched almost two years ago by the Police and Crime Commissioner, David Jamieson, and Mayor of the West Midlands, Andy Street, Safer Travel has worked with us and other transport partners to refresh these materials and remind customers to report hate. This helps Safer Travel build a truer and more accurate intelligence picture to put officers in areas where they are needed most.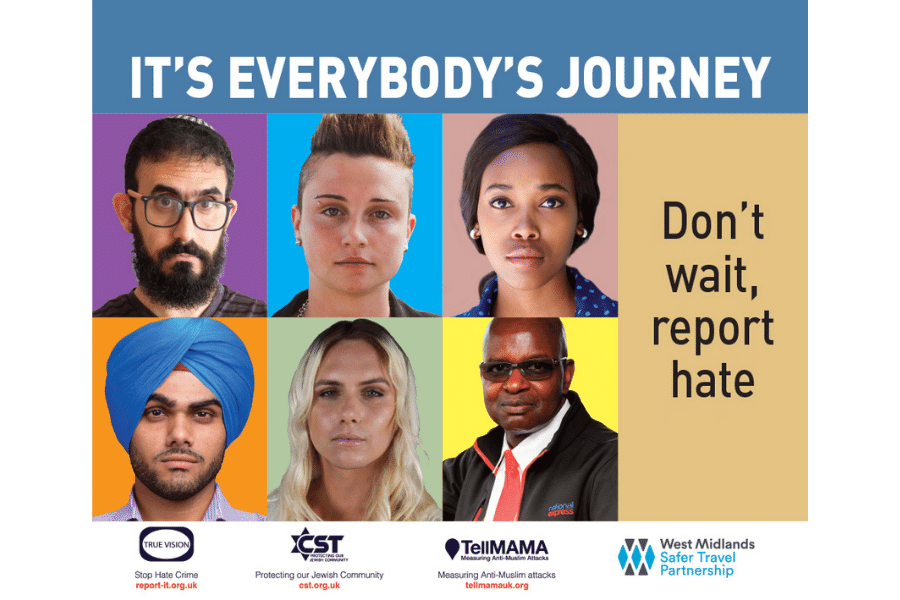 Andy Street, the Mayor of the West Midlands, said: "People have a right to travel on our trains, buses, and trams in safety and without being subject to abuse and anti-social behaviour. So the message from myself, the PCC, and this campaign could not be clearer - if you see hate crime or are the victim of hate crime, report it.
"We saw a huge response the first time we launched this campaign in 2019 and now, with more people due to return to public transport as the pandemic eases, we are refreshing it to remind people there is help available if they are the victim of hate crime on our public transport network."
Our managing director, David Bradford, said: 
"Hundreds of thousands of journeys are made safely every single day but we will not tolerate anybody who does not respect the right that everybody has to work and travel safely, without fear of assault or intimidation.
"By raising awareness and carrying out joint training with the Safer Travel team we'll help our staff recognise and deal with hate crime, ensuring that incidents are reported, support is given and the perpetrators are identified.
"We would like to encourage anybody experiencing hate crime on public transport to report it to West Midlands Police. We have crystal clear CCTV on all of our buses and we will make footage available to the police to help with any investigation."
The Police and Crime Commissioner and Mayor of the West Midlands are continuing to support the campaign to increase awareness of hate crime across the transport network.
"West Midlands Police will continue to take action against those who feel it is acceptable to commit these crimes on the transport network. It will never be tolerated."
The campaign is featured on over 300 of our buses, and in all 12 bus stations across the region. The posters aim to increase awareness of hate crime and point victims to West Midlands Police and partner organisations where victims can also report: TellMama, CST and TrueVision.
For more support or advice about hate crime, visit the West Midlands Police website at www.west-midlands.police.uk.