We are cutting bus fares and making it easier for customers to travel further, for less
Our new ticket prices start on Monday (19th July 2021) when coronavirus restrictions are lifted and means many of our customers can use their tickets and passes to travel across the wider West Midlands at no extra cost.
We are  making travelling cheaper and easier by dropping many of its fares and allowing customers to travel outside of the Coventry zone, for the same price. 
This means the £4 day ticket that's valid all day for bus travel in Coventry can now be used to travel on buses across the West Midlands, at no extra cost. The price of a 4 week bus ticket for under 18s will drop by over £5 to £27.50* and from mid-August the Term Plus ticket is being slashed by nearly £15 to £85*.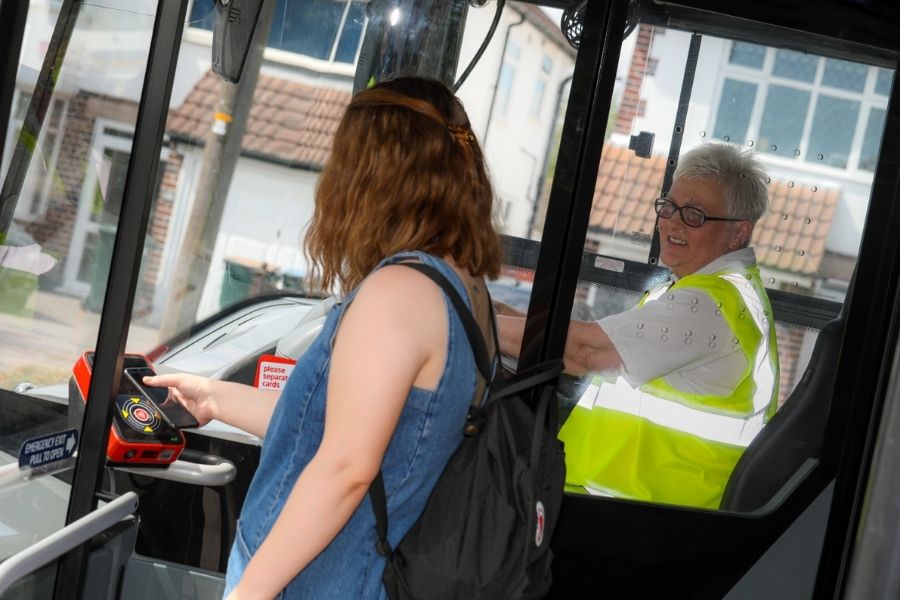 In addition, there will be a NEW contactless weekly ticket price capping. Customers just tap a contactless bank card or device on the bus ticket machine each time they get on. At the end of seven days, they will be charged no more than the £15 cost of a weekly ticket - however many journeys they made across Coventry and the wider West Midlands. So customers' savings kick in after travelling for just four days in that one week. 
David Bradford, our Managing Director, said:
"We're delighted to be cutting bus fares to make it cheaper and easier to get around our region.
"The cost of everything - including motoring - is going up. But from Monday, many of our bus customers in Coventry will pay less than they do now - and they'll be able to travel even further.
"Our bus fare cuts and ticket extension to the West Midlands mean that Coventrians travelling all day, to anywhere across the West Midlands, will cost less than the price of a burger.
"You will be able to catch as many buses as you like all day long and just tap a contactless card on the ticket machine. You don't need to work out what's the best price - we'll do that automatically and you'll never pay more than you need to.
"This makes it easier for people to try out catching the bus - and we know that when people try buses, they like them and keep using them.
"Getting more people onto buses will build back our high streets, get people back into jobs and education, clean up our air and help the UK meet its carbon targets.
"We're planning to turn all of our Coventry buses all-electric in the next few years, starting with more double deckers in 2022. Our cheaper, simpler fares will help our customers make greener transport choices."
Andy Street, the Mayor of the West Midlands, said: 
"National Express's fare cut is a fantastic decision that will help get Coventry and our West Midlands region back on the move as further restrictions are eased on Monday. Not only will many buses now be cheaper but they will be simpler to use too.
"Keeping fares low has always been one of my top transport priorities as Mayor, and I am delighted that over the last four years we've had a fare freeze, with the price of the most popular ticket - the day ticket – staying at the same price since 2016.
"Now, come Monday, we believe we will have the cheapest bus fares in England – helping everybody across the region to make cheaper, greener and cleaner transport choices."
Councillor Jim O'Boyle, Cabinet Member for Jobs, Regeneration and Climate Change at Coventry City Council, said:
"Making bus travel cheaper and easier is a key part of our plan to improve local air quality, get our high streets back on their feet and get the people of Coventry back to work. 
"We know that 77% of all job seekers, and 87% of young jobseekers, have no access to a car, van or motorbike and are completely reliant on their local bus networks, so buses are part of the solution.
"As a Council we are doing everything we can to support Coventry and the wider West Midlands' economy and National Express's decision to cut fares and make bus travel even more accessible is to be welcomed."
For more details on  our new fares and weekly contactless capping from 19th July visit nxbus.co.uk/coventry/fares2021.
*16-18 year olds must show a valid West Midlands 16-18 photocard.