Part five - Post Deregulation 
Sunday 26th October saw West Midlands Travel (WMT) , a company created to takeover the operation of West Midlands Passenger Transport Executive's bus services, on a fully commercial basis, begin operation of a heavily revised and reduced network, requiring less buses to operate this. Therefore, it was inevitable that a large number of the oldest buses in the fleet would no longer be needed, so we said goodbye to the remaining Bristol VRs and the last ex Coventry City Transport East Lancs bodied Fleetlines, plus the 44xx numbered East Lancs Fleetlines that were ordered by Coventry but delivered to the PTE. In addition, it was originally planned that all Fleetlines below 6301 would be withdrawn but, thanks to WMT being reasonably successful at winning tenders for non commercially registered services, issued by a PTE which was now responsible for making sure that the gaps in the commercial network received adequate services for those that relied on them. This meant that a number of Park Royal bodied Fleetlines in the 45xx and 46xx series, would survive into 1987!
Many of the buses withdrawn would be sold to operators across the country. Some large but mostly small, many taking advantage of the new, relaxed regime to begin operations on new commercial or tendered (services that weren't registered commercially but deemed to be socially necessary for the community served; so competitive tenders were issued by the relevant local authority, with the Passenger Transport Executive – PTE-being responsible for this in the West Midlands county) services.  So the former WMPTE buses soon began to appear in many unexpected places.
Final Days Of 45/46xx Fleetlines 
The survivors of this batch of buses would all remain at the Birmingham garages where most had spent their lives, with Yardley Wood operating 4561, 4565 & 4577 beyond deregulation, Acocks Green retaining 4580-4583, whilst Washwood Heath would continue to run 4586, 4587, 4589, 4590, 4591, 4599 and 4617-4618 and 4624/25. Other Fleetlines of this age moved around various garages, with 4603-4605 and 4622/23 transferring to Hockley. The only post deregulation survivor of the batch of ten (4607-4615) that had been transferred from Yardley Wood – Dudley in exchange for Leyland engined Fleetlines in 1980, would be 4608, which found itself allocated to Acocks Green. In the summer of 1987, 4608 and fellow Acocks Green resident 4581 would be transferred to Quinton until October 1987, when both were withdrawn, this being around the time that the rest of this batch would also depart the fleet. 
4600 and 4602 spent a month and two months respectively at Perry Barr before their withdrawal, though this garage was now due to become one of three that would no longer have a long term Fleetline allocation, thanks to the transfer of the thirty five  Volvo Ailsas previously based at Walsall, joining the fifteen already allocated to Perry Barr. Several Fleetlines would spend short spells there though, with the type returning in more numbers from Summer 1987 onwards, thanks to the sale to London Buses of the fifty Ailsas. 
Birmingham Central (renamed from Liverpool Street) and already Fleetline less Walsall would be the other two Fleetline free garages, although Birmingham Central would be another garage to have occasional loans, as did Walsall at the very beginning of the new era. Perry Barr and Liverpool Street's newer Fleetlines would be transferred after deregulation to other garages within their respective groups. These groups had replaced the PTE's original divisional structure, with the Northern group covering Walsall, West Bromwich, Perry Barr, Hockley and the Newtown minibus base that had taken over the former Miller Street garage. Eastern Group contained 
Birmingham Central, Washwood Heath, Lea Hall, Acocks Green and Yardley Wood, whilst Western Group would cover Quinton, Dudley, Hartshill and Wolverhampton. Coventry would be the fourth group. 
Perry Barr's former surviving Fleetlines would transfer to it's near neighbour Hockley, which had lost it's large fleet of 43xx Fleetlines upon their deregulation withdrawal, though had also gained most of Miller Street's Fleetline allocation upon that garage's closure in May 1986. This closure had caused Hockley's fleet to grow substantially, with many of the garage's buses having to be parked overnight on the garage's yard, right next to Hockley Circus, which unfortunately meant that these soon become victims to graffiti artists, a craze which was then sadly growing, with bus interiors throughout the county soon coming under attack, with Hockley's buses bearing the brunt of this, so these, including the Fleetlines, soon looked pretty scruffy. The craze would gradually die down but the problem has never gone away fully. Nevertheless, during this period, Fleetlines dominated Hockley's allocation. 
The former Liverpool Street Fleetlines would be transferred to fellow Eastern Group garages at Lea Hall, Yardley Wood and Acocks Green, whilst 6582-6591 would transfer to Coventry, becoming the first Park Royal bodied PTE Standard Fleetlines to be allocated to that city, some four years after the withdrawal of the ex Coventry City Transport Park Royal bodied Fleetlines.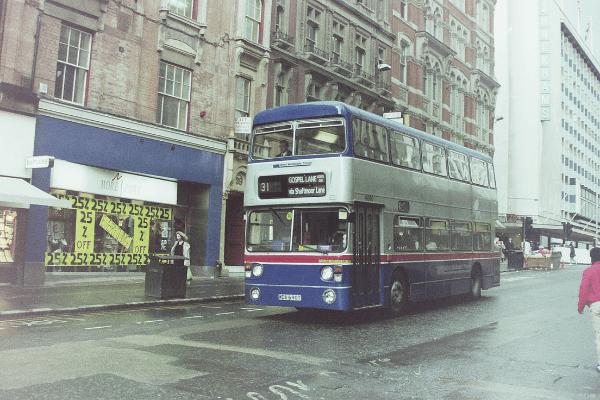 The Reserve Fleet
But some newer Fleetlines would be taken off the road at deregulation as well. These found themselves stored in closed garages, forming the beginnings of a reserve fleet, mainly there to provide extra vehicles to counteract attacks from competitors. Initial examples included former Dudley buses 6913 and 6915, Coventry's 6917, 6921, 6931, 6961, 6962, 6963, 6965, 6967, 6971 and 6984, West Bromwich's 6939 and Wolverhampton's 6992. These would all find their way back into service, some quite soon, particularly after WMT started to revise services from 26th January 1987 onwards, the first date after deregulation that operator's could vary registered commercial services, which required a slight increase in the size of the fleet. 
Late 1987, however, would see all pre 6301 Fleetlines finally withdrawn, with some early 63xx buses passing into the reserve fleet. Though this is unrecorded, there is evidence to suggest that some of those stored at Walsall garage (in the former Walsall works) that some of these were actually used by Walsall, this evidence mainly consisting of a photo in an issue of a short lived passenger newspaper produced by WMT for publicity purposes. Part of this paper featured a photo taken by newly installed video cameras (fitted to combat the previously mentioned graffiti problems) inside buses, with passengers featured in this being able to claim a prize! The caption of one of these photos claimed to be on Walsall route 345 (Walsall – Heath Hayes) and clearly featured the lower deck of a Fleetline! I strongly suspect that three Fleetlines were involved, 6303, 6307 and 6309, which all subsequently ended their days at Wolverhampton. 
1988-1990
These three years would see WMT begin to buy new, full size buses again, which would see the number of Fleetlines in the fleet drastically reduced. These withdrawals began in late 1988, when the first of 150 Metrobus MK 2As (2975-3124), the final Metrobuses to enter service with the company, began to enter service. In addition, WMT began to fit most of it's fleet of Leyland Nationals, many of which had been placed in the reserve fleet, with new DAF engines. These soon appeared at Fleetline strongholds such as Hockley, Dudley, Hartshill and Wolverhampton which, combined with the delivery of the new Metrobuses, saw the number of Fleetlines at these establishments reduce drastically, with Hartshill losing all it's examples in 1989, with Hockley holding onto a few into 1990. 
But it was the 1989 announcement of an order for what would become an eventual fleet of 250 Leyland Lynx single deckers (1067-1316, following on from six prototypes delivered in 1986, that were numbered 1061-1066), that would really reduce the number of Fleetlines on the West Midlands roads. Yardley Wood would be the first garage to receive the new Lynxes, with a consequent withdrawal of most of it's Fleetlines, with 6921 being the last, though this wouldn't be the end of Yardley Wood's Fleetline story, as we'll see latter! Lea Hall too, would soon become a Lynx stronghold, along with a large fleet of DAF engine Nationals, Fleetlines being reduced to penny numbers here, mainly to be found on the trunk 96/97 routes from Birmingham to Chelmsley Wood. Dudley would also become a Lynx garage, causing it's short lived DAF engine National fleet to move on but again, Fleetlines were now very much in the minority here. Latter Lynxes would introduce the marque to Coventry and Quinton, seeing Fleetlines reduce in number at these two garages, though a fair few would continue in operation, as well as at West Bromwich (which had a short lived fleet of Lynxes which moved onto Hockley in 1990, replacing that garage's National 2s, though a small number would remain at West Bromwich) and Washwood Heath (where Lynxes wouldn't feature until September 1991, when examples were transferred in to operate the 94.) 
New Liveries
An article about West Midlands Travel featured in a 1989 issue of BUSES Magazine, which stated that the company planned to be rid of it's Fleetlines by 1991, this then seeming a credible aim, thanks to the number of new buses then entering the fleet. It was then planned that the last allocations would be allocated to two Birmingham garages that had particularly heavy peaks, Acocks Green, which then featured a large amount of school services in the Solihull area, and Perry Barr, which had received a lot of Dudley and Hockley Fleetlines in 1989. Several of these Fleetlines would receive an application of the new grey and blue livery that had been adopted as standard following the delivery of the MK 2A Metrobuses (initially silver was used but grey proved to be harder wearing.) Due to the short time that these buses were expected to remain in the fleet, the covering of grey was rather basically applied, with cream gaps where side adverts had been applied! Despite these being concentrated at Acocks Green and Perry Barr, one example did wander, with 6927 being allocated to Quinton. 
1990 would also see WMT purchase forty Alexander bodied Scania double deckers (3201-3247, gaps appearing in this sequence due to unavailable matching registrations) allocated to Birmingham Central mainly for the 50, these allowing the cascading of Metrobuses to replace more Fleetlines. Beyond this, five Wright bodied Dennis Dart minibuses (801-805) would enter service at Walsall but the privatisation of West Midlands Travel by an Employee Share Ownership Plan (ESOP) in December 1991 would see new vehicle purchases put on the back burner for a few years, as the company focused on repaying the bank loans made to purchase the company. This lead to the surviving Fleetlines receiving a stay of execution, the first sign of this being the painting of more Fleetlines into the current WMT livery, which by then, had evolved into a more presentable livery than the earlier grey and blue, with a blue roof and red and white lined relief below the downstairs windows added to the grey, with that colour soon replaced by the original silver. This improved the appearance of the fleet considerably, in my opinion looking particularly fine on Fleetlines. One oddity was blue and grey liveried 6881, which transferred from Perry Barr to Dudley in June 1991 and soon found itself gaining a blue roof, though the lack of red lower relief meant that the bus stood out from the latter repainted examples. 
6974 would be another bus to gain unique features, although this would subsequently lead to greater things! The Perry Barr allocated bus would see it's seats retrimmed with the dark blue moquette that the company had been using on new buses since the Lynxes started to enter the fleet. The same shade of blue would replace the different shade of blue on the surrounds of the stairs. This brightening up of the Fleetline interior would be well received, and Perry Barr's 6902 & 6925 would soon receive the same treatment. But more Fleetlines across the fleet would soon receiving the new blue moquette! 
Fleetline Indian Summer 
The desire to pay off the loans obtained to pay off the investment needed to secure the ESOP saw WMT capitalise on it's reserved fleet, hiring members of this fleet to operators throughout the UK who, for one reason or another, needed buses quickly. Although many Fleetlines would feature in these loans, WMT could make more money by hiring out more modern Metrobuses, so more of these would be placed into the Reserve Fleet, enabling them to be hired out. To cover their absence, Reserved Fleet Fleetlines would be returned to service, being repainted into the new livery and their seats covered with the new moquette. The oldest Fleetline to return to service was 6443, which was now allocated to West Bromwich. Other examples returned to service at Washwood Heath, Lea Hall, Dudley, Wolverhampton, Acocks Green and Quinton. 
Yardley Wood would also see a return to Fleetline operation in the summer of 1994, when David Leeder, the manager of the new South Birmingham group (consisting initially of Acocks Green and Yardley Wood garages, this group was one of five established to cover all WMT garages in 1993, the previous, post deregulation group structure having been abandoned) decided to balance the age profiles of his two garages, with several of Yardley Wood's Lynxes making their way to Acocks Green to operate on the 37 Birmingham – Solihull service, whilst two of Acocks Green's National 2s (1021 & 1022) and initially seven Fleetlines (6869, 6871-6873, 6875 and 6876) with more added latter, moved to Yardley Wood. Although Intended mainly for schools services, they would soon find their way onto most of the double deck services then operated by the garage. 
Another factor which saw greater Fleetline use at this time was an increase in competition from increasingly aggressive Independents, to which WMT's response was to increase it's own services, meaning more use of Fleetlines. This occurred throughout the network, with some rather surprising results at Walsall! 
East Lancs Bodied Fleetlines On The Move 
The forty East Lancs bodied Fleetlines (6721-6760) which were originally an option for purchase by Coventry City Transport, which was exercised by the PTE, but weren't delivered until 1977 had, apart from an initial spell at Acocks Green for the first twenty buses, spent the vast majority of their lives at their Coventry spiritual home. Four, however, would have a brief wander in 1990, with 6757 and 6759 spending January and February helping out at Quinton, after which both would be withdrawn, though 6757 would return to service at Coventry in October 1992.
February 1990, meanwhile, saw 6728 and 6734 spend some time at Dudley. Again, these were withdrawn after the loan had finished, though 6728 would return to service at Coventry in 1992.
But the big event was yet to come! Most of the class would soldier on throughout the early nineties, with several being withdrawn over time, but a big Coventry area revision of services in the summer of 1994 would see vehicle requirements at this garage reduce, leading to the surprising transfer of the ten surviving East Lancs bodied Fleetlines (6723, 6732, 6735, 6741, 6744, 6751, 6752, 6757, 6758 and 6760) to Walsall, returning regular Fleetline operation to the garage for the first time in eleven years! Along with a selection of Leyland Nationals, this increased the Walsall fleet to enable more services to be introduced, in competition with Independents Chase and Choice, who were giving WMT intense competition in the town. March 1995 would see these Fleetlines joined by Metro Cammell bodied example 6871, transferred from Yardley Wood. 
1956
Had an idea that the company considered in 1994 come to fruition, the remaining Fleetlines in the fleet would have faced a potentially longer future…… despite being cut down to size! 
Washwood Heath based Fleetline 6956 found itself withdrawn from service in November 1993 but was rebuilt over the following months as a small single decker! Thoughts were had about creating a cheap fleet of midibuses, to operate marginal routes more economically and provide more economical competition against the growing number of independent operators in the West Midlands. It was rumored that recently withdrawn 6990 (also a Washwood Heath bus) was waiting in the wings to become 1990 but, for whatever reason, the plan for more conversions were scrapped. 
Nevertheless, 1956 would enter service in it's new guise in August 1994, providing a unique spectacle in the fleet. Initially allocated to West Bromwich and used mainly on service 242 (Cradley Heath – Kinver), the following November would see it somewhat surprisingly transfer to Quinton, a garage with no routes that really required small buses, so it ran alongside the garage's other Fleetlines, Metrobuses and Lynxes. April 1996 would see 1956 transfer to Acocks Green, where it found a home alongside ex Your Bus Plaxton Pointer bodied Dennis Darts on routes 32 (Acocks Green-Yardley) and 42 (Solihull – Baldwins Lane via Yardley and Acocks Green.) July 1997 would see the bus enter the reserve fleet, replaced at Acocks Green by some of the low floor Wright bodied Volvo B6s that, in effect, fulfilled the function that the proposed batch of single decker converted Fleetlines was intended to fill.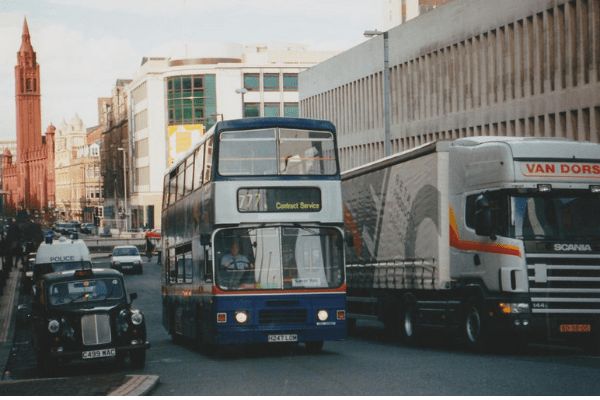 Two Years Of Change
1993 & 1994 were two years which saw great change occur to the West Midlands bus scene, with WMT closing three garages in 1993, Dudley in August, Hartshill in October and Cleveland Road, Wolverhampton in November. Cleveland Road was replaced by the reopening of Wolverhampton's other garage, Park Lane, which had closed at deregulation but kept as a store by the company but closure of the other two saw routes and vehicles split between other garages. Dudley's remaining Fleetlines were split between Wolverhampton, West Bromwich and Quinton, whilst Hartshill's services that were transferred to Wolverhampton and Quinton saw the appearance of Fleetlines for the first time since Hartshill had lost it's last Fleetline in 1989. 
WMT had also bought several independent operators during this period, including Dudley based Metrowest. This was kept as a low cost operation until August 1994, when it's services were taken over by WMT garages at Wolverhampton, Quinton and West Bromwich, meaning Fleetlines from these garages would regularly appear on ex Metrowest services. To make room for these services, Wolverhampton's 527/528 Ashmore Park/Willenhall /Bilston Circular and West Bromwich's 410/411 to Wednesbury via Friar Park were transferred to Walsall, meaning the recently transferred East Lancs bodied Fleetlines would appear on these services, spreading their wings into the neighbouring towns. 
WMT would also takeover most of the West Midlands services of Stevensons, after the purchase of that large, Staffordshire based independent by the British Bus Group. Initially, the services taken over were operated by the former Stevensons garages at Oak Road, West Bromwich (now used as an overflow yard for the nearby West Bromwich garage) and Willenhall, with a varied selection of Reserved fleet buses, including two Fleetlines, 6710 and 6712, which were allocated to Willenhall. These garages would soon be closed down and the routes transferred to relevant WMT garages, meaning more Fleetline appearances on unfamiliar routes. Gradually, along with the ex Metrowest services, these were all integrated into the main network. 
The Final Days 
The Indian Summer wouldn't last! 1995 saw WMT purchase six Alexander Strider bodied Volvo B10B single deckers, which were allocated to Wolverhampton. This would lead in 1996, to the ordering of what would turn out to be a fleet of seventy five Volvo B10Bs, featuring Wright Endeavour bodywork. These were allocated to Wolverhampton, Walsall and Acocks Green, initially replacing Nationals but Fleetlines wouldn't be far behind on the way out. Also joining the fleet in 1996 were the first low floor buses to enter the fleet, consisting of fifty Wright bodied Volvo B6 midibuses. In many ways, these performed the function that it was intended that 1956 and it's proposed sisters would have performed, keeping costs low on more marginal services. The first fifty were allocated to West Bromwich, Walsall, Acocks Green and Yardley Wood. 
1996 would see Fleetline operation cease at Wolverhampton, Acocks Green (apart from 1956), Lea Hall, Yardley Wood and Walsall, though Wolverhampton would see some loans latter in the year (A common occurrence, to allow newer buses to be used on Wolverhampton's Christmas Park and Ride services) including some East Lancs examples from Walsall before these were withdrawn from service.
Perry Barr's examples would disappear following the arrival of the first of one hundred Wright bodied Volvo B10L single deckers, which were allocated to the 33 (Birmigham – Pheasey) which received Showcase treatment, with Centro (what the PTE was renamed in 1990), in association with Birmingham and Walsall (where Pheasey just about is) councils, providing enhanced stopping facilities, with special shelters and kessel curbs, designed to enable easy access to the bus for wheelchair users. Bus Lanes would also feature, with what was now Travel West Midlands (TWM, renamed from WMT after the company merged with National Express) fulfilling it's end of the deal by converting the route to Volvo B10L operation, with the busses concerned being painted in a special blue livery with white relief, with "Line 33" branding being prominent. 
Shortly after this, Coventry and West Bromwich would see their last Fleetlines cease running, leaving just two garages using Fleetlines on normal service. Quinton was now down to just two examples, 6902 and 6923. I rode on both of these on Good Friday 1997, riding 6902 on the 9 (Birmigham – Stourbridge) and 6923 on the 21 (Birmingham – Bartley Green), which would enter the reserve fleet latter that month (April) with 6902 lasting until Quinton's closure on 18th June 1997. 
Which left just Washwood Heath as the Fleetline's last home. Interestingly, one of that garage's routes, the 55 (by then running from Birmingham – Chelmsley Wood but originally running to Shard End) had been one of the earliest Birmingham City Transport services to be converted to Fleetline operation, in 1963, making it the longest running service in the West Midlands to feature Fleetline operation. But the final day of Fleetline operation would focus on another route.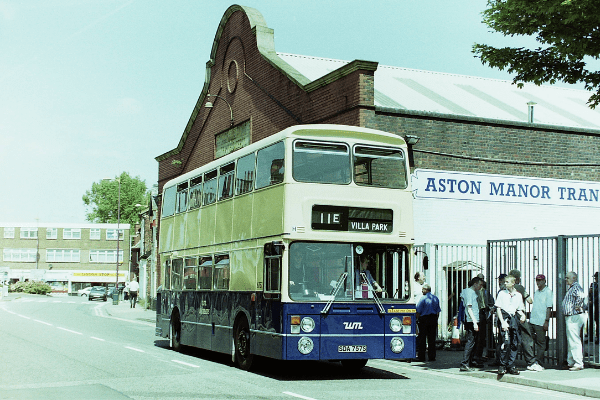 Saturday 1st November 1997-The Official Last Day
And so, the final day of registered local bus service operation by Travel West Midlands Leyland Fleetlines had arrived, with the company choosing to run the remaining examples as duplicates on Washwood Heath service 27, from Bull Ring Markets-Bromford Bridge. Those of you who are familiar with the Birmingham bus network may be surprised to find a service numbered 27 using double deckers, as that number had been a long established route in the south of the city that used single deckers, due to it passing under a low railway bridge below Bourneville Station. But this was in a period of around nine years when that service had been absorbed into the 35, with the number 27 then being used for an off peak extension to the Bull Ring Markets, of service 26, including all journeys during Saturday daytime, when the Fleetline operated duplicates would be running. 
The 26 had been started by Birmingham City Transport on 11th September 1967, as one of the last of a group of one man operated feeder services, linking new housing estates with trunk bus services into the City Centre. The 26 would run from the new Bromford Bridge estate to Highfield Road, Alum Rock, where connections to City could be made on the 14 & 55. Initially, the 26 was run with 1950 vintage Leyland Olympics, though these were withdrawn in April 1968, when their place on the 26 was taken by some of the twenty four strong batch of Marshall bodied single decker Fleetlines that had been used to start many of these sixties introduced feeder services. Just a few weeks latter, the 26 would be converted to double decker operation, initially using Park Royal dual door bodied Fleetlines 3879 and  now preserved 3880, the last two new buses to be delivered to Birmingham City Transport. So the route's association with the Fleetline, although not as long as that with the 55, was long standing, making it an appropriate route for this day's activities. The 26 was extended from Highfield Road into City on 5th August 1974.
I was one of many enthusiasts who ventured out to ride on the Fleetlines in operation on that day, consisting of 6477 (one of the Fleetlines that had returned to service from the reserved fleet, ending it's normal service days at Yardley Wood) 6898 (which transferred to Washwood Heath from Perry Barr when Fleetline operation ended there) 6932 (which transferred to Washwood Heath from Lea Hall in November 1993) 6952 (at Washwood Heath since Coventry Road garage's closure in October 1985) 6967 (a lifelong Coventry bus) single deck conversion 1956 and 7000, which had ended it's days at Perry Barr and would perform the final, full to capacity trip, and be decked with "Final Fleetline day" transfers, even though the late delivered 6690 was the last Fleetline to enter service (which was withdrawn in October 1996) Also operating duplicates was West Midlands Travel's then oldest bus, ex Ribble via Tame Valley Travel (an acquired independent) Leyland National 1745, whilst even the normal journeys on the 27 were operated by notable buses, with the various Metrobuses that had been painted in 1996 into the liveries of the various operators that had made up the original West Midlands Passenger Transport Executive, being drafted in for the day. 
After 7000 had run a full to capacity final journey, a ceremony took place which saw David Leeder, who had risen from his role of South Birmingham Group Manager, who bought Fleetlines back to Yardley Wood, to become TWM's Managing Director, hand over 7000 to Mac Cooper of the Aston Manor Transport Museum. Then, the Fleetlines were driven over to Walsall, where they were stored in the former Works until their disposal, bringing to an end TWM's operation of Fleetlines…….. almost! 
For two Fleetlines, 6960 and 6965, had come out of reserve in June 1997 and were sent to the company's Travel Merry Hill subsidiary, formed from the takeover of the independent Merry Hill Minis. The two Fleetlines were used on a car park shuttle at the Merry Hill shopping centre, this lasting until July 1998, making these the last two Fleetlines to be operated by Travel West Midlands and it's predecessors. 
Thus came to an end the operation of the Standard WMPTE Fleetline, though fortunately, several examples have been preserved. 7000 is now based at the Wythall Transport Museum, where it has just regained a coat of it's final blue and silver livery. Wythall is also home to East Lancs bodied 6757. 
Early Park Royal bodied example 4041 is owned by the Aston Manor Transport Museum, whilst other preserved examples include Park Royal bodied 6600 and Metro Cammell 6986. 
Although technically not a PTE Standard Fleetline, ordered by Wolverhampton Jumbo 3997 is currently being restored by National Express West Midlands for inclusion in it's Heritage fleet, which will provide a reminder of where the influence of the PTE's standard Fleetline body came from. 
So, though the Standard WMPTE Fleetline has been absent from service for twenty four years, the preserved examples all help to keep this significant West Midlands bus in our memories. 
We would like to thank Mark Fitchew, a very knowledgeable bus enthusiast and bus driver for the help with putting these blogs together!