Artistic rebels used lockdown to stitch for smiles along 5.5 miles of number 18 bus route
Residents and passengers on our 18 bus route between Yardley Wood bus depot and Northfield Library will have their journeys brightened from 18th July, with around 700 hand-stitched hearts hanging on trees and railings as part of a temporary artwork called 18 at Heart.
Woolly Mammoth Stitch Works CIC, a Birmingham-based social enterprise, first started the 18 at Heart project 18 months ago, just before the first national lockdown. Older residents from communities on the 18 bus route were invited to unleash their inner artistic rebel and stitch for a 'yarn bomb' while also sharing their own memories of being aged 18. The project was funded by Selly Oak Neighbourhood Network Scheme.
Collectively, volunteer stitchers spent 1500 hours creating hundreds of mini artworks for the outdoor display, which can be found along 5.5 miles of the 18 bus route including parts of Yardley Wood, Billesley, Brandwood, Kings Heath, Druids Heath, Monyhull, Cotteridge, Kings Norton and Northfield.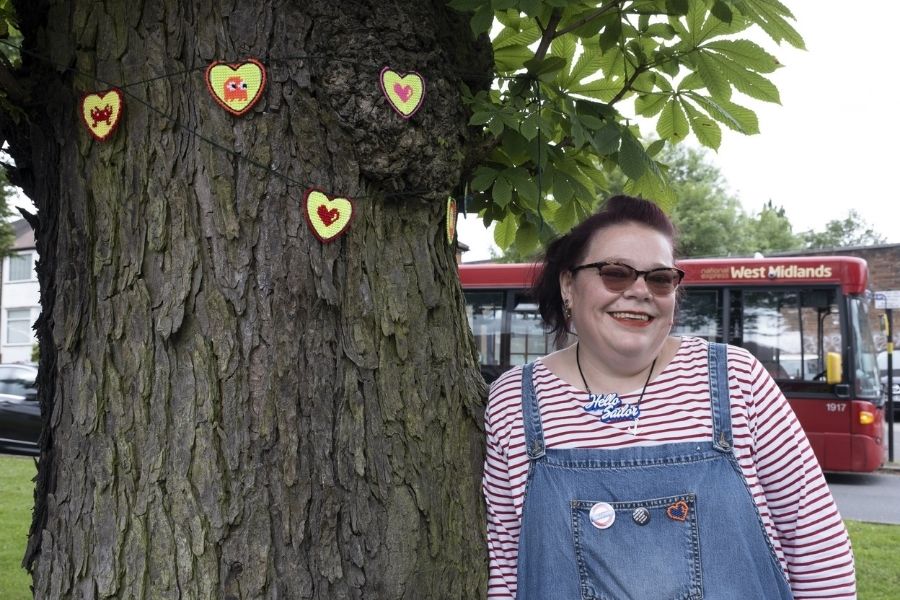 This woolly street art was delayed by a year, but people living and travelling along the route will finally be able to enjoy a splash of colour and creativity over the next three weeks. Stitchers involved in the project hope the tapestry hearts will lift people's spirits even more as we emerge from lockdown.
Valerie, who had just retired when she was first told to isolate, was among the first to join the stitch team. 
"Stitching the hearts during those challenging times was therapeutic and helped me relax and stop thinking about the troubles of the world. When I finished each heart, it gave me a sense of achievement. I've become a bit of an artistic rebel since and also started decorating my local post-box for local families to enjoy!"
Suze Carter, one half of the Woolly Mammoth team, reflects on the start of the project.
"We had only just started running stitching workshops before the March 2020 lockdown forced us to stop, but we wanted to carry on, so people participated from home. It wasn't long before we were coordinating a team of over 40 over-50s, stitching hearts and swapping stories of being 18. For many of the stitch team who were shielding, being involved was a welcome distraction and a way to feel connected to other people during such a difficult time, even if they were strangers."
Tom Kinsey, our operations Manager for ' Yardley Wood depot, said:
"Our buses have continued running throughout the pandemic and played a huge part in tackling isolation by keeping communities connected, so we loved the fact that 18 at Heart provided further support for those who were shielding.
"Woolly Mammoth Stitch Works have done a fantastic job with this project by engaging local residents and helping to prevent loneliness at home. We hope our passengers will enjoy the hand-crafted tapestry hearts while travelling along the 18 route."
This is not the only woolly lockdown project that Woolly Mammoth Stitch Works has run over the last 18 months. 
Tina Francis, the other half of Woolly Mammoth, said:
"Over 1500 people have been involved in the creation of four other collaborative artworks alongside 18 at Heart. For these projects, we invited hundreds of people to each stitch their own artwork to contribute to a larger one. We've posted tapestry kits all over the place as we have not been able to meet in person. We've sent apples to Evesham residents, train carriages all over Worcestershire, bricks around Northfield and poppies to people across Birmingham to stitch for a commemorative piece for the Jewellery Quarter Cemeteries. Between July and September, we are finally revealing all the tapestry artworks and really looking forward to meeting stitchers for the first time. We have enjoyed playing a part in helping people feel connected and creative during the pandemic."
18 at Heart will be on display from 18th July. A QR code will direct you to a webpage where you can see a catalogue of all the hearts and memories shared by the stitchers and others.

For more information visit www.woollymammothstitch.works/18-at-heart.